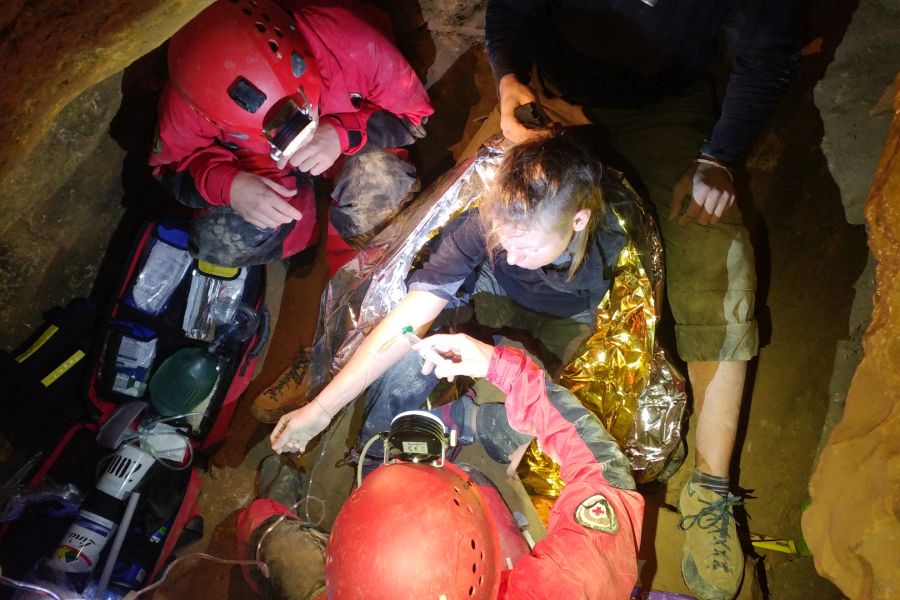 On the evening of September 29, 2017, a group of cavers hiked in the Mátyás-hegyi Cave, which is part of the longest cave in the country, the Pálvölgyi Cave System in Budapest. Nearly half an hour's way from the entrance, (about 500 meters), in the middle section of the deep zone, between Nagytravi and Opera-Nagytravi they climbed down a narrow chimney, where they secured each other during the climb so that no one could fall.
At the end of the chimney, at about one and half meter from the bottom, a young lady was clinging to an upper catch and suffered a shoulder strain.
The tour guide - who is a trained cave tour and research leader - took action to alert the cave rescue service.
At 20:16 am after the inquiry, our cave rescuers received an alarm and began marching to the scene and picking up the necessary equipment from the warehouse.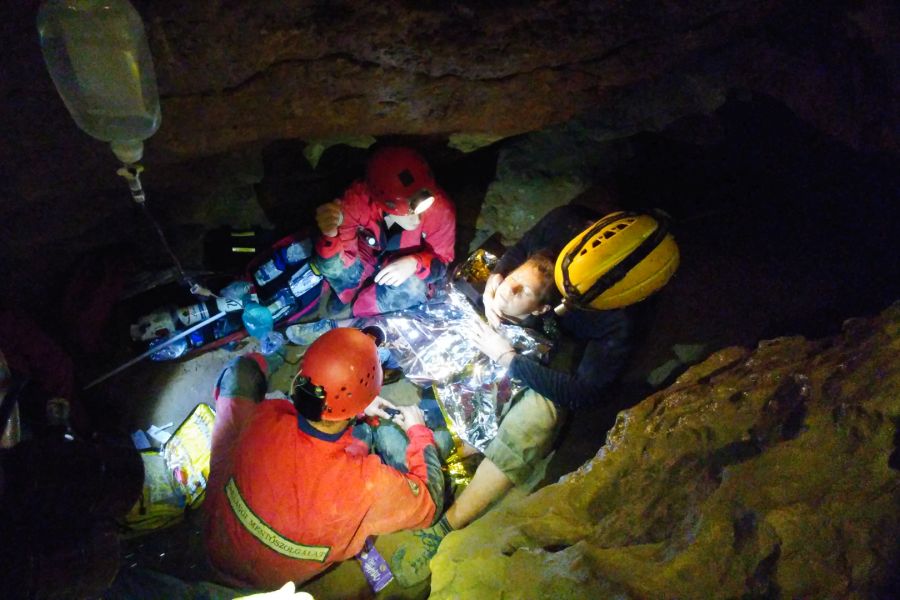 At 20:50 the first rescue team went into the cave with a specialist and some medical equipment and arrived at the patient at 21:10.
By then, the hiking companions had protected the patient against hypothermia using insulating foils and secured her shoulder with proper positioning, thus reducing her pain.
Meanwhile we helped the other members of the hiking team to go to the surface, the hiking companions reached the surface at half past ten in the evening.
After examination and medical care, we began transporting the injured lady to the surface in a special cave rescue stretcher. In the vertical chimneys we moved the stretcher with rope technique, either using counterweight or three-to-one pully-systems.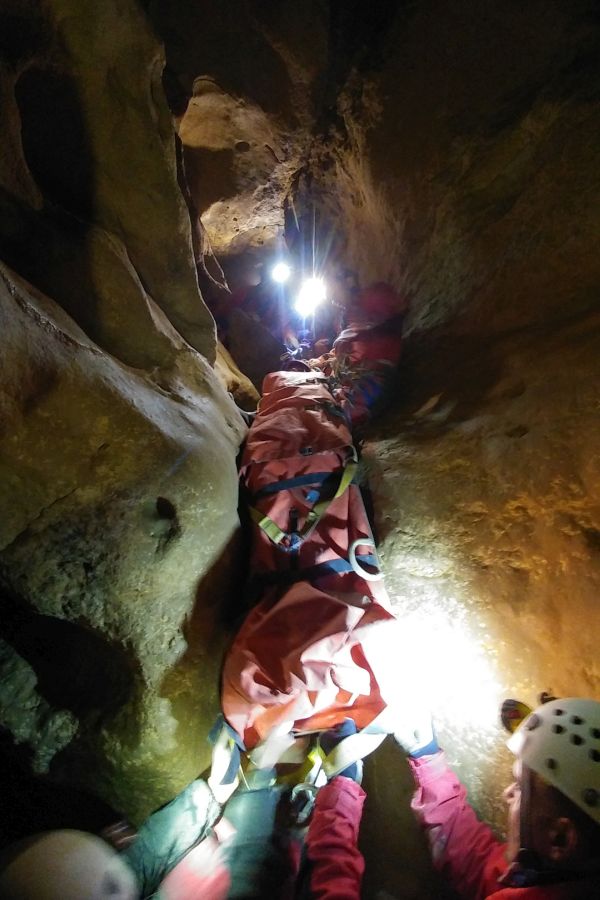 Then, in the central zone, so-called "Centennial part", we managed to move the stretcher ahead either with using a short tow rope, giving from hand to hand, or with horizontal transport.
In this part of the cave, some narrower passages also complicate the route to the surface, fortunately these parts did not have to be expanded, the situation was solved with some dexterity. We were at the bottom of the entrance ladder shortly before 11 in the evening
Here once again, we used a counterweight pully system to move the stretcher up.
At 23:15, the injured lady reached the surface, her further care is done in the emergency department of the Honvéd Hospital, we wish her a lucky recovery!
Our weekend program was the yearly autumn practice in the Solymári Cave, we hadn't planned to start it with a real rescue ...
The rescue involved 17 cave rescuers, two doctors and 5 assisting cave researchers.
Photos: Zsolt Sándor