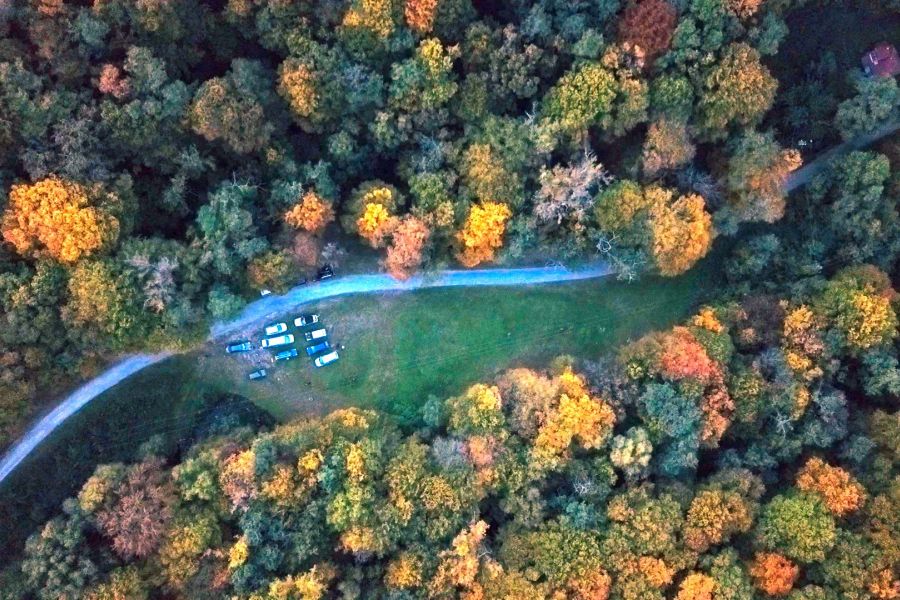 An alarm arrived a few minutes before 4pm on October 15, 2018, that a lady member of a couple had suffered an ankle injury while hiking, somewhere around the top of the gorge named Rám-szakadék. They could not determine their exact position, nor was the signal strength sufficient for proper communication. They indicated that they would definitely ask for a rescue because they could not continue their tour or move back with the injured leg.
It could not be exactly determined whether they were close to the upper or lower endpoints. We issued the alert to the membership and went to the scene in two groups. Those who were in Northern Budapest (closer to the site) were directed to the site, who came from the south part, they went to the warehouse, where they collected equipment, and they continued to Dömös (a village near the lower end of the gorge).
The meeting place for the marching groups was the lower parking place nearby the gorge Rám-szakadék, as proven in previous rescues. Meanwhile, a two-person group, with an off-road car started exploring from the upper direction (Pilismaróti forestry road, top of the gorge). While most of the rescuers arrived at the scene, members of our SUV unit found their way down the road in a parallel valley Lukács-árok to a point from which it was difficult to proceed even by SUV. As it turned out, the injured person was only about three hundred meters away and she was very cold by then. The dry weather of the last few days allowed us to get close with the vehicle, so after the examination and care, we were able to transport her with off-road vehicle from the scene.
Would be a rainy weather, it would have been possible to approach the site only by foot, so the injured could have been transported only in a stretcher. During the rescue, 22 cave rescuers marched to the scene with a rescue doctor. In addition to our cave rescuers, also came to the site from the organizations of the nearby Bakony Cave Rescue Service and the North Hungarian Association of Hungarian Cave Rescuers.
Photo: dr. Dénes Ákos Nagy