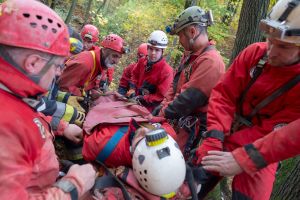 The usual great cave rescue training during fall was held in the Devil's Hole Cave in Solymár this year. Also we excersized near the entrance on the surface. We practiced the handling and transport of the stretcher in several groups. In addition to the members of the Hungarian Cave Rescue Service, the members of the Bakony Cave Rescue Service, the Northern Hungarian Association of Cave Rescuers, the firefighters of the 1st District of Disaster Management also joined and practiced together.
We also gained a wealth of useful experience in performing tasks that seemed simple at first glance.
More pictures CLICK HERE can be found on our facebook page.